Brother BP2100 Embroidery Machine With 7in x 12in Embroidery Field, 227 Built in Designs, 15 Embroidery Fonts, & I Want it all Bundle Package! (This Model is Similar to Baby Lock Spirit)
SKU:
BRO-BP2100-BONUS-KIT
I Want it All Brother Embroidery Bundle Package Included - Valued at over $4000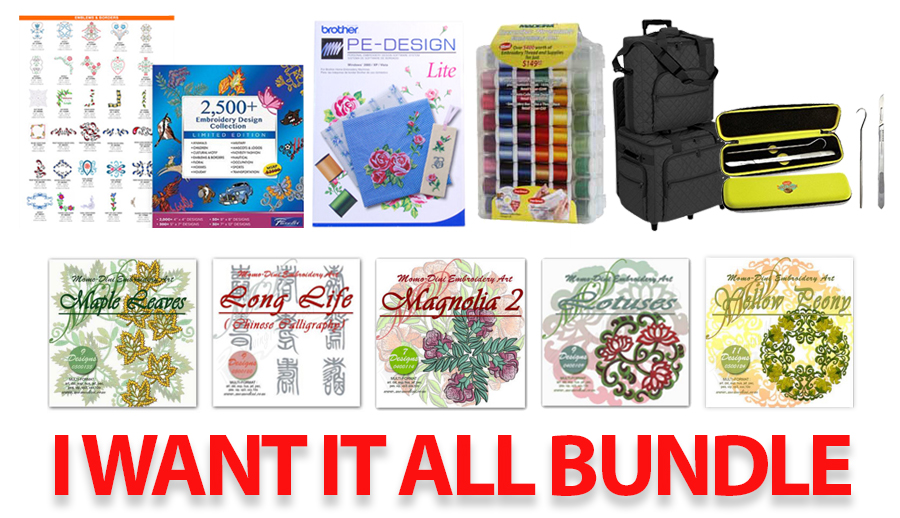 Enjoy these BONUS BUNDLE items found in our Value Package. These accessories will give you everything you need to take your Sewing and Embroidery to the next level!
BONUS

 

PE-DESIGN Lite Embroidering Software (BRO-PE-DESIGNLITE)

BONUS

 

Hemline Black XL Three-Bag Trolley Sets (TACONY-4015860001)

BONUS

 

SAEMB2500 - 2500+ Embroidery Design Collection

BONUS

 

Birds Nest Tool (SMP-BNT1001)
BONUS

 

Madeira 80 Color 220 yd Smart Spools Set (TACONY-20928082)

BONUS

 

Madeira Three Stabilizer Set (TACONY-MSTRIO)

BONUS

 

5 Random Momo-dini Embroidery Designs - *Designs chosen at random of what we have in sto
The Brother BP2100 Embroidery Machine includes the exclusive Brother Droplight Embroidery Positioning Marker. The marker uses and LED pointer to show the needle drop position with pin point accuracy. The Brother BP2100 Embroidery Machine has precise embroidery editing capabilities. Getting your design just right is easy with pattern rotation by 1 degree – use the LCD touch screen display to change the rotation angle of your design in one-degree increments for precise placement. Change the background color of embroidery designs on the LCD touch screen display for editing ease and greater visibility during the preview process. Never worry about messy or unprofessional thread trims with automatic thread cutting.
The Brother BP2100 Embroidery Machine is a top of the line embroidery only machine featuring a huge embroidery field and room to expand your embroidery capabilities. The Brother BP2100 Embroidery Machinehas a large color LCD screen, precise embroidery, editing capabilities, precise laser guide light and more!
Key Features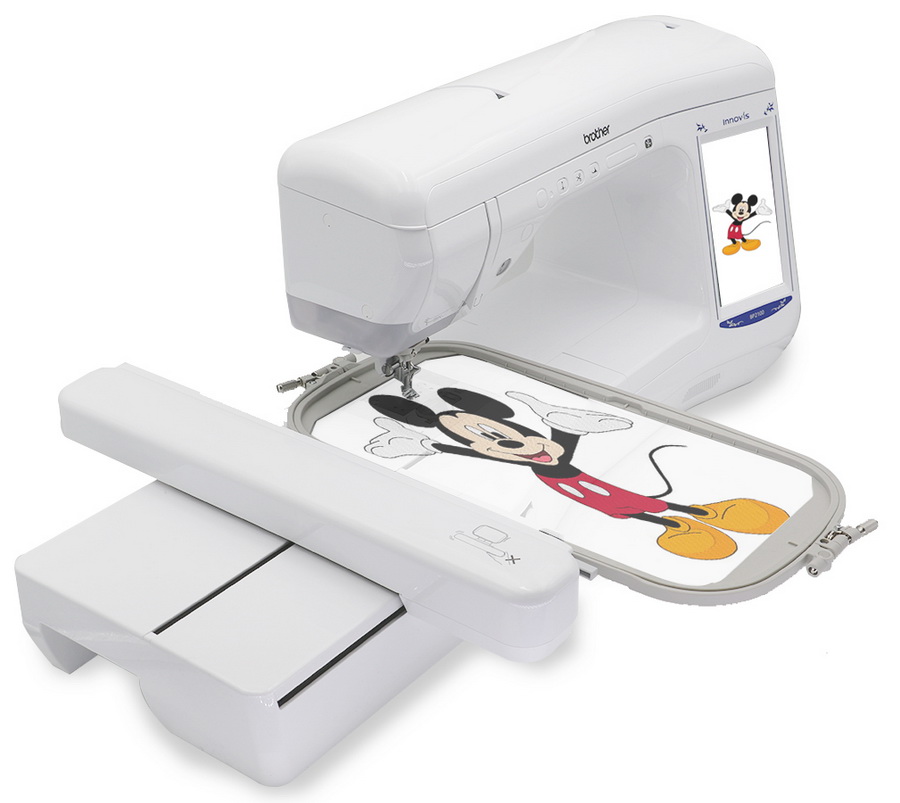 5" X 7" AND 7" X 12" EMBROIDERY HOOPS INCLUDED AND MORE ACCESSORIES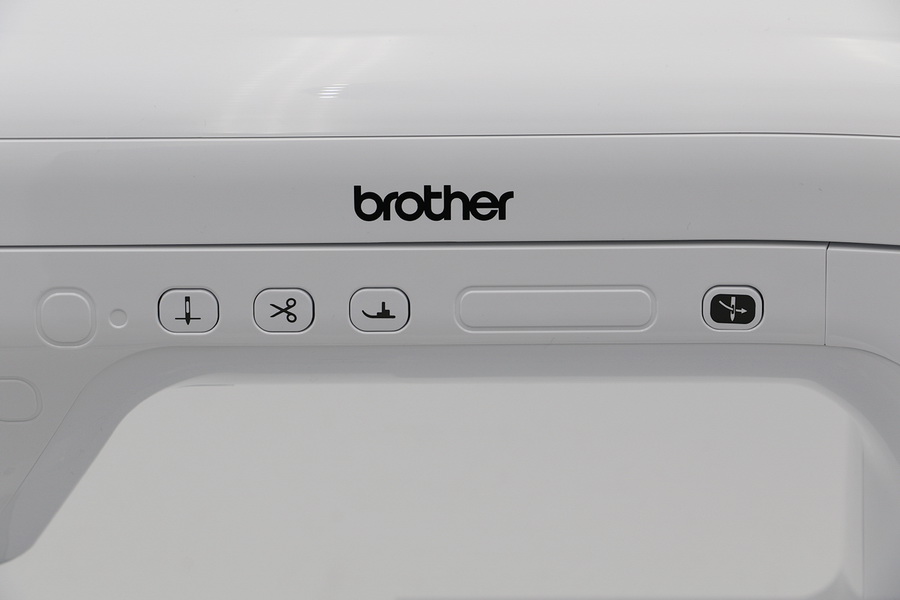 EASY ACCESS TO QUICK FUNCTION KEYS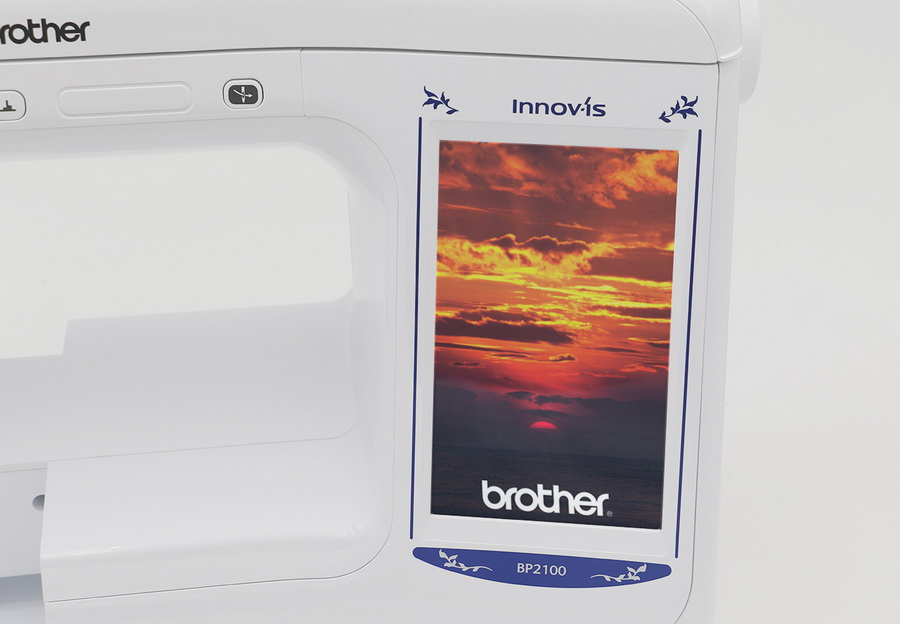 HIGH QUALITY TOUCH SCREEN DISPLA
Major Features and Accessories
Highlighted Features:
Large 7"x12" embroidery field
227 Built in Embroidery Designs
15 Embroidery Fonts
Built in USB port to easily import designs from your computer. The Brother pes format is one of the most popular formats on the market. You have access to the internet. Plus having a USB port will allow you to use other optional programs for making your own designs, using more alphabet fonts, editing designs, and more!
LED Light System reduced eyestrain, so you can embroider longer
Thread Sensor lets you know when top and bobbin thread are out or broken
5.0 x 11.25-inch workspace
Embroiders up to 1050 stitches per minute
Embroidery edit function allows you to combine multiple designs, edit design size, rotation, and more
Pattern Rotating 1, 10, and 90 degrees
Stitch jumping feature is great for thread breakage or if the power goes out. Simply bring the design back up and fast forward to where you left off
Thousands of display colors that are clear and vivid
Built in Needle Threader
Auto thread cutter
Easily change setting on machine to display designs in inches or metric system
Included Accessories:
Droplight Embroidery Positioning Marker
5"x7" Embroidery Hoop
7"x12" Embroidery Hoop
Embroidery Foot
Needles
Bobbins
Scissors
Cleaning Brush
Screwdriver Small
Screwdriver Large
Disc Shaped Screwdriver
Vertical Spool Pin
Small Spool Cap
Medium Spool Cap
Large Spool Cap
Touch Pen Stylus
USB Cable
Bobbin Thread
Dust Cover
Accessory Bag
Needle Plate Cover
Spool Cap
Detailed Instruction Manual
Power Cord
More from this collection