Grace Dial & Push Button Speed Control Box, 1 Prong Single Pin Foot Control Plug In for Juki Brother Baby Lock Bernina Elna Janome Pfaff Viking Singer
The Grace Speed Control is a universal foot pedal replacement that works with many machines on the market*. lt allows you to have compatibility with multiple machines listed below* Without the Grace Speed Control you would have to use your regular foot controller for start/stop and speed control.
The Grace Speed Control is compatible with many DC-powered machines that have a single prong foot pedal plug-in. D.C.-powered machines usually have a separate foot pedal plug-in and a power cord plug in.
(AC-powered machines combine the two cords into one plug; these types of machines are generally NOT compatible with the Grace Speed Control, except for 3 prong Janome 1600P.)
Features:
Speed dial that allows you to set your machine to desired stitch speed
On/Off Button
Pulse Button (machine runs untill you release it, or touch and release for a single stitch)
Velcro Straps for easy attachment to your frame
Compact Ergonomic Design

The Speed Control Box comes with a 3.5mm Male Mono Plug connector and a 5.5mm Female Power Plug.

 



(Machines with other connectors are not currently compatible.)

US Warranty: 1 year limited warranty on defects in materials and workmanship.
Extended US Warranty: Extended Warranty Available
Non-US Warranty: 30 days parts and labor
Extended US Warranty:

 

Extended Warranty Available
Specifications
*Machine Compatibility
Baby Lock Crafters Choice
Baby Lock Decorator's Choice
Baby Lock Quilter's Choice

Bernina Activa 145
Bernina Activa 240
Bernina Artista 165
Bernina Artista 185
Bernina Virtuosa 153
Bernina Virtuosa 155

Brother 1500S
Brother 8060
Brother Pacesetter NX-200
Brother Quilters Choice

Elna 7200

Janome Memory Craft 4800
Janome Memory Craft 6500
Janome Memory Craft 10000

Juki E-80 (all)
Juki TL98E
Juki TL98Q
Juki TL2000QI
Juki TL2010Q

Pfaff 2022
Pfaff 2024
Pfaff 2025
Pfaff 2034
Pfaff 2046
Pfaff 2054
Pfaff 2124
Pfaff 2144

Singer Quantum 9910
Singer Quantum 9920
Singer Quantum 9940
Singer Quantum 9960



Included Accessories
Compatibility Chart
Brand/Model 1-prong Speed Control Box 3-prong Speed Control Box
BABY LOCK
Crafters Choice X --
Decorators Choice X --
Quilters Choice X --
Quilters Pro -- --
BERNINA
1000 Special
(AC power) -- --
Activa #145 X --
Activa #240 X --
Artista #165 X --
Artista #185 X --
Aurora #440
(Has its own stitch regulator) -- --
Virtuosa #153 X --
Virtuosa #155 X --
BROTHER
1500L -- --
1500S X --
8060 X --
Innovis 400 -- --
Pacesetter NX-200 X --
PQ-1500 -- --
Quilters Choice X --
ELNA
7200 X --
JANOME
1600P-series -- X
Memory Craft 4800 X --
Memory Craft 6500 X --
Memory Craft 10000 X --
JUKI
E-80 (all machines) X --
TL98E X --
TL98Q
(Uses original SCB w/ special cord, sold separately) X --
PFAFF
2022 X --
2024 X --
2025 X --
2034 X --
2046 X --
2054 X --
2124 X --
2144 X --
Grand Quilter -- X
SINGER
Quantum 9910 X --
Quantum 9940 X --
VIKING
Designer II -- --
Lily 150 -- --
Mega Quilter -- X
One -- --
Quilting Lucky 540 -- --
WHITE
9800 -- --
Other Images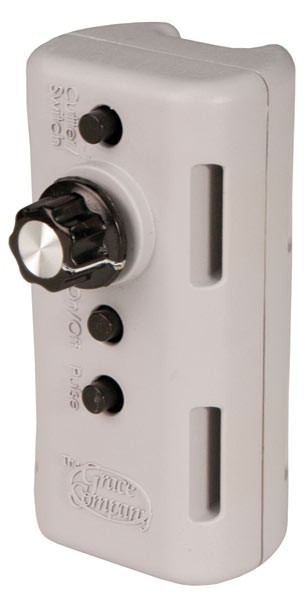 Grace Speed Control Box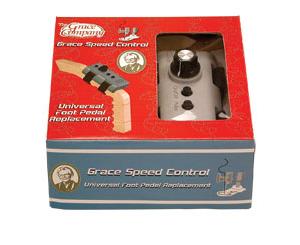 Grace Speed Control in box with instructions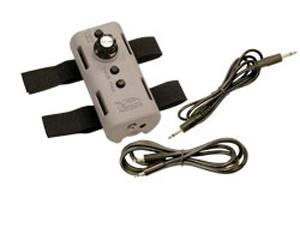 Grace Speed Control comes with velcro straps and cords to connect to foot control port on your portable sewing machine or mid arm quilting machines.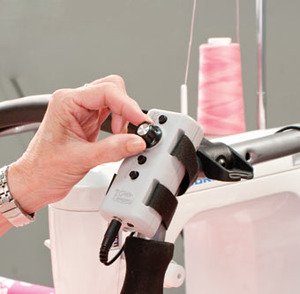 Grace Variable Speed Control Dial Box, Start Stop Button, 1 Pin Plug In Cord